n January 2011 Keygrove Chartered Surveyors is 10 years old!!  Over this period the business has thrived on offering both private and corporate property owning clients imaginative property solutions with Director level service, independent thinking, attention to detail and excellent market knowledge.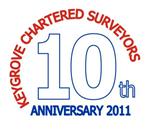 Richard Nevines MRICS, founding Director and co-owner of Keygrove, says, "Keygrove is proud to be celebrating 10 years of excellent service to clients in Southampton and central
Southern England.  We remain an independent commercial property consultancy offering a service tailored to our clients' needs and with in excess of 50 years combined property experience.  Our continued success is down to our stability and dependability."
Despite the economic downturn Keygrove has continued to grow and with co-owner and Director of Agency, Andrew Archibald and Director of Commercial Property Management, Tim Haine, Keygrove is positive for the future outlook.
"We look forward to the next 10 years of business and beyond!"