Property Consultancy
Keygrove Chartered Surveyors offers a full property consultancy service including advice on existing properties on behalf of landlords and tenants and on development projects including mixed use schemes. The extent of our involvement can be tailored to suit your requirements.

Business Premises or Portfolio

Keygrove analyses your existing premises, lease terms and suitability together with your business needs before we recommend the best course of action to make your property work for you. This may involve:

·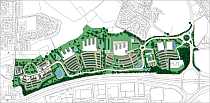 Lease restructuring
·         Sale and leaseback
·         Refurbishment
·         Relocation
·         Portfolio strategy
·         Asset management
 
Development
Keygrove advises on development of land and property for a wide range of commercial and residential uses from start to finish to maximise profitability. This includes advertising on:
·         Market research and advising on potential uses, demand and values.
·         Achievable rents and prices of completed schemes.
·         Identifying potential planning issues and solutions.
·         Negotiating S106 and S278 agreements.
·         Optimising square footage, value and profitability of schemes.
·         Project management including appointing contractors and external advisors.
·         Advising on infrastructure solutions, costs and planning.
·         Advising on master planning, site coverage and layout.